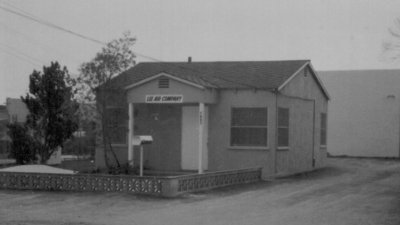 Lee Air first opened for business in 1959 as an aircraft consulting specialist by our founder, Mr. Bob Lee. After several successful years Bob turned his attention to purchasing surplus material from OEM's (Original Equipment Manufacturers) and the U.S. Government, which soon became the future success of Lee Air. In 1966 Lee Air became Incorporated, and in 1968 Lee Air proudly became an FAA 145 Repair Station BJ4R078M, specializing in instrument and accessory repairs.
Today his legacy continues with his son, Pat Lee, our current President, and his grandson, Ted Lee, our current Vice President. Lee Air is now nationally and internationally recognized leader in supplying quality aftermarket aviation parts. Our facility, located on the Hollywood Burbank Airport in Sun Valley, California, has expanded to six warehouses with over fifty thousand square feet of space, stocking well over 300,000 different line items.
Our inventory currently consists of a wide variety of U.S. Government and OEM surplus material. We endeavor to maintain stock and expertise in material manufactured by the following companies: Abex (NWL), Allison, Barber Coleman, Bendix (Allied Signal), Bell Helicopter, Convair, Douglas (Boeing), Grumman, Hamilton Sundstrand, Honeywell (Allied Signal), Hydro-Aire, Lear Siegler, Lycoming, Pratt Whitney, Sikorsky, Simmonds Precision, Vickers, Weston Hydraulics, Whittaker Controls, Walter Kidde.
As evidence of our reputation and integrity we number among our customers: United States Air Force, United States Army, United States Marines, United States Navy, NASA and NAMSA, Allied Signal (Honeywell Inc.), Boeing, E-Systems, Hamilton Sundstrand, Honeywell Inc., Hydro-Aire, Lockheed, Simmonds Precision, Whittaker Controls.